Ad blocker interference detected!
Wikia is a free-to-use site that makes money from advertising. We have a modified experience for viewers using ad blockers

Wikia is not accessible if you've made further modifications. Remove the custom ad blocker rule(s) and the page will load as expected.
Greek Mythology
Edit
The Greek Goddess, Amphitrite was the daughter of Oceanus and Tethys, two titans gods of water, the faithful wife of Poseidon, the god of the oceans, and the mother of Triton.
God of War
Edit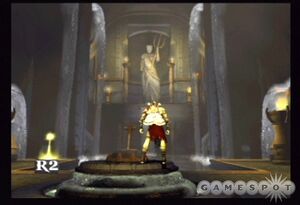 In God of War, in Pandora's Temple, there is a chamber dedicated to her. Inside Amphitrite's Chamber, there is a large statue of her holding a trident. She has no other role in the game beside being mentioned as knowing the secret way out of the chamber. It is unknown what has happened to her during and after God of War III.
She is often confused for Poseidon's Princess, but she clearly is not.

The fact that Poseidon had a sex slave in God of War III, could mean she abandoned Poseidon prior to the game. As it is to this girl he seeks comfort, and not to his own wife.

The statue of Amphitrite bears a similar appearance to the statues of Athena
Related Pages
Edit