The
Arena of the Fates
is unlocked by completing the
Challenge of the Titans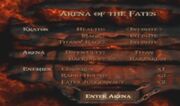 with an overall ranking of
Titan
, in
God of War II
.
With this, the player can select up to three different types of enemies to fight, as well as how many of each type, and if they will respawn when killed, or not. In the case of weaker enemies (like Undead Legionnaires), he can select up to 3, but in stronger ones (Cyclopes), only one can be added. Additionally, the difficulty can be selected (Mortal, Spartan, God or Titan), and the type of arena to fight in.
Also, the player can then alter Kratos' powers and stats. This means deciding if the Health, Magic or Rage of the Titans, will be infinite or not. This then allows for fun all-out enemy combat.
Related Pages
Edit
Ad blocker interference detected!
Wikia is a free-to-use site that makes money from advertising. We have a modified experience for viewers using ad blockers

Wikia is not accessible if you've made further modifications. Remove the custom ad blocker rule(s) and the page will load as expected.