Ad blocker interference detected!
Wikia is a free-to-use site that makes money from advertising. We have a modified experience for viewers using ad blockers

Wikia is not accessible if you've made further modifications. Remove the custom ad blocker rule(s) and the page will load as expected.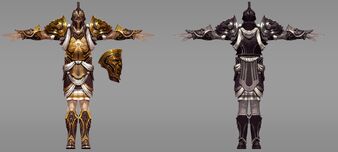 "
Gifted by the Goddess Athena, this armor carries the wisdom of battle and tactical manipulation.
"

–In game description
The 
Armor of Athena
is an golden armor, inspired by the 
Goddess of War
, that can be obtained in
God of War: Ascension
's
multiplayer
mode.
The armor pieces can be unlocked by completing these tasks;
Helmet - Protector 1 (Survive with the Chalice 3 times)
Chest - Treasure Hunter II (Open 25 chests)
Legs - Treasure Hunter III (Open 50 chests)
The Armor of Athena is a golden armor, similar to the Athena. It consists of the a golden-brown chestplate with a brown-white loincloth. The boots and the arm guards are brown with golden lines, as the shoulder pads that resembles a human face. The armor is covered in green crystals like Athena's armor. The helmet looks similar to that of the Elemental Talos.
Rank 1 - +6% Physical Resist; +6% Elemental Resist
Rank 2 - +7% Physical Resist; +7% Elemental Resist
Rank 3 - +8% Physical Resist; +8% Elemental Resist
Experience
Edit
Rank 1 - n/a
Rank 2 - 12,500 XP
Rank 3 - 36,000 XP