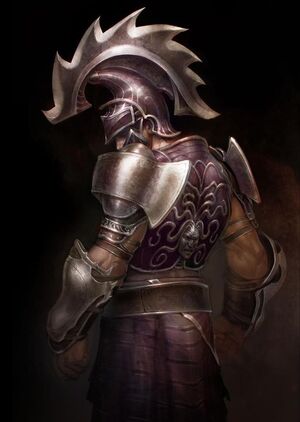 Warriors in God of War: Ascension's multiplayer can wear the Armor of Perseus.
Greek Mythology
Edit
In Greek myth, Perseus was the famous hero who killed the Gorgon, Medusa. He was commonly said to have accomplished this feat with a variety of magical items lent to him by the gods, including a helmet of invisibility, the winged sandals of Hermes, a magical sword, a special pouch to store Medusa's head in, and a reflective shield that allowed him to find the Gorgon without actually looking at her and turning to stone. He also was a descendant of Zeus and Danae.
In God of War: Ascension
Edit
"
Hardened by the Gorgon Medusa's gaze, this armor protected the legendary savior of Andromeda.
"

–In game description
The Perseus armor becomes available by preordering God of War: Ascension and getting the Mythological Heroes Pack. His armor differs greatly from how he appeared in God of War II - it was based on his depiction from Clash of the Titans. The Mythological Heroes Pack, as well as Perseus, contains Orion, Achilles, and Odysseus.
A metal cast of Medusa's face has been imprinted on the back of his armor, he has a large helmet that has a spiked plume arching over it, and his arms are guarded by steel plates.
Rank 1 - +1 Health; +3% Elemental Power
Rank 2 - +2 Health; +4% Elemental Power
Rank 3 - +3 Health; +5% Elemental Power
Experience
Edit
Rank 1 - n/a
Rank 2 - 3,500 XP
Rank 3 - 12,000 XP
Ad blocker interference detected!
Wikia is a free-to-use site that makes money from advertising. We have a modified experience for viewers using ad blockers

Wikia is not accessible if you've made further modifications. Remove the custom ad blocker rule(s) and the page will load as expected.