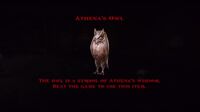 Athena's Owl is an item located in Athena's Temple on the Island of Crete, found in the rubble near the right corner of the room where Kratos desecrated the statue of Athena. It can be used on Bonus Play after beating the game. Activating this item allows you to find treasures by giving the screen a green hue while near an orb chest. The closer you get, the greener the screen gets.
In Greek Mythology, Athena's owl was name "Bubo"
Ad blocker interference detected!
Wikia is a free-to-use site that makes money from advertising. We have a modified experience for viewers using ad blockers

Wikia is not accessible if you've made further modifications. Remove the custom ad blocker rule(s) and the page will load as expected.