"
Forged by the calculating hands of Nemesis, this blade tempers vengeful brutality with blind justice.
"

–In game description.
The Blade of Judgement is a weapon in God of War: Ascension. It is only availabe for those who pre-order God of War: Ascension at Walmart or bought the Collector's Edition.
Experience
Edit
Rank 1 - n/a
Rank 2 - 4,000 XP
Rank 3 - 16,000 XP
Rank 1 - +8% Physical Power
Rank 2 - +9% Physical Power
Rank 3 - +10% Physical Power
Inescapable Wrath (L1 + square): Set up combos by sweeping enemies off their feet with a dash attack. Physical damage.
Divine Retribution (L1 + triangle): A powerful spinning attack that can knock enemies back. Physical damage.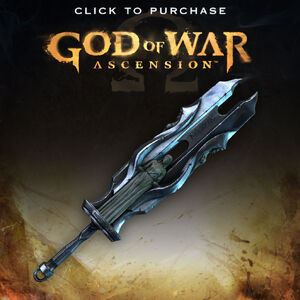 Related Pages
Edit
Ad blocker interference detected!
Wikia is a free-to-use site that makes money from advertising. We have a modified experience for viewers using ad blockers

Wikia is not accessible if you've made further modifications. Remove the custom ad blocker rule(s) and the page will load as expected.