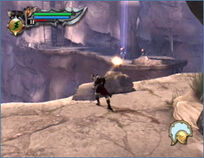 The Bluffs of Madness are basically the "lower" part of the Cliffs of Madness above Pandora's Temple. They are the first series of cliffs and ledges that Kratos traverses when he reaches the cliffs. Upon the bluffs is also the caves of the Traps of Madness where Kratos finds the Necklace of Aphrodite.
Related Pages
Edit
Ad blocker interference detected!
Wikia is a free-to-use site that makes money from advertising. We have a modified experience for viewers using ad blockers

Wikia is not accessible if you've made further modifications. Remove the custom ad blocker rule(s) and the page will load as expected.