Bonus Play
Talk

0
828pages on
this wiki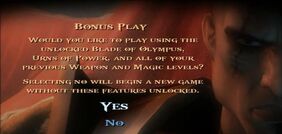 Bonus Play is an unlockable feature that appears in the God of War series, made available after beating one of the difficulty modes in the game once.
Bonus Play was first implemented in God of War II. This extra game mode allows the player to replay the game on the same difficulty it has been beaten before (or lower).
However, Kratos retains all of his magic powers and health, and is automatically equipped with all the subweapons, including the Blade of Olympus, which can be upgraded during the course of the Bonus Play. However, the treasures or relics (Rage of the Titans, the Amulet of the Fates, the Golden Fleece, and Icarus Wings), are lost, and have to be obtained normally, to balance out gameplay, althrough Rage of the Titans can be acquired much faster and easier than normal due to the fact Typhon's Bane doesn't need to be reacquired unless the player wants to play through that scenario again.
Bonus Costumes can be selected before beginning the Bonus Play mode, and any or all of the Urns of Power that have been discovered in normal play can be activated. If the player discovers an urn during Bonus Play, he is able to activate it instantaneously.
Bonus play is implemented in a similar way to God of War II, with all of the weapons at the levels they were at the end of the game, along with health, magic, and Thera's Bane. However, the player can have the option of playing Bonus Play in the same fashion as the first God of War; with all weapons and levels reduced to the starting point, but with the costumes' bonuses as well.
During Bonus Play, Kratos' health, magic, and item gauges will not be at the same level they were when the game was finished.
The Bonus Costumes can be used as well, and any or all Godly Possessions that may have already been unlocked.
However, using other costumes, or godly possessions, disables trophies. Also, the player has to get and upgrade the weapons normally, but is possible to do a glitch that makes Kratos start the game with all weapons at maximum level as long as a specific patch is not installed.