Ad blocker interference detected!
Wikia is a free-to-use site that makes money from advertising. We have a modified experience for viewers using ad blockers

Wikia is not accessible if you've made further modifications. Remove the custom ad blocker rule(s) and the page will load as expected.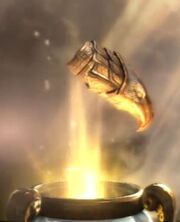 "
Cut in the likeness of Zeus' own Golden Eagle, these gauntlets deliver the swift authority of Olympus.
"

–Ingame description
The Cestus of Zeus are a pair of gauntlets unique for those aligned with Zeus. These are DLC weapons, available for $2.99 or $4.99 with the Gauntlets of Zeus in PS Store. The weapons will electrocute your enemies with the thunder of Zeus but come with the price of large cooldown time.  
Description
Edit
"
A fast gauntlet with lightning attacks.
"

–Ingame description
The Cestus of Zeus are made in the likeness of his eagle form, complete with piercing eyes and a sharp golden beak. The front part is made of gold and white silver, while golden plates protect the lower arms.
Experience
Edit
Rank 1: N/A
Rank 2: 15,000
Rank 3: 45,000
Rank 1 - +5 Health; +9% Physical Power; +1% Elemental Power
Rank 2 - +6 Health; +10% Physical Power; +2% Elemental Power
Rank 3 - +7 Health; +11% Physical Power; +3% Elemental Power
Rapid Justice: Hold Square to charge up and execute a powerful long  range sweeping dash attack in zig zag pattern. Holding Square increases range. L1 + Square
Thunderous Impulse: Unleash a lightning fast dash that combos into a flurry of attacks ending in a powerful flyback. L1 + Triangle