"
I offer you the gift of experience. Let your enemies tremble before your newfound power!
"

–engraving in chamber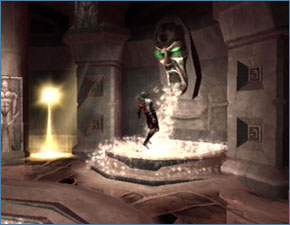 The Chamber of the Gods is a small chamber beyond the Rings of Pandora. The doorway to the chamber is sealed by a mural of the Muses. If Kratos is able to find the two Muse Keys within the temple, he can insert them into the mural, and it'll open a passage into this chamber. Within, one will find three streams of magical sand. Bathing in the streams will yield 1,500 Red Orbs, and one upgrade each of your health and magic gauges.
Related Pages
Edit