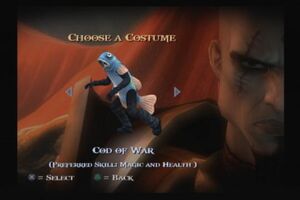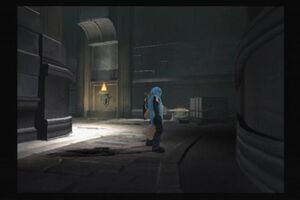 Featured as an additional costume for Kratos in God of War II, the Cod of War is unlocked by beating the game on any difficulty. It is described before being unlocked as "Kratos' life has always been an upstream battle..." After being unlocked it is described as "Kratos plus a fish costume equals the Cod of War!" When used, Kratos is shown wearing a blue fish costume, and his Blades of Athena are replaced with a pair of fishhooks. Wearing this costume doubles the value of any Orbs Kratos collects. His strength and defense remain the same.
Other Additional Costumes
Edit
The other bonus costumes found in God of War II are as follows:
Ad blocker interference detected!
Wikia is a free-to-use site that makes money from advertising. We have a modified experience for viewers using ad blockers

Wikia is not accessible if you've made further modifications. Remove the custom ad blocker rule(s) and the page will load as expected.