"
Crafted from the chains of Cronos, this blade waits for eternal revenge in the name of the Titans.
"

–In-game description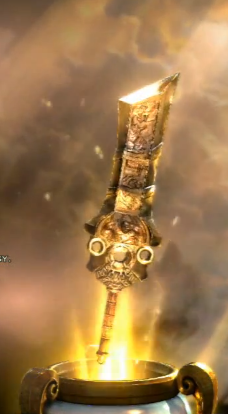 The Cronos Blade is one of the weapons that warriors in Multiplayer have to obtain by three fragments.
Experience
Edit
Rank 1 - n/a
Rank 2 - 15,000 XP
Rank 3 - 45,000 XP
Rank 1 - +5% Physical Damage; +5% Elemental Damage
Rank 2 - +6% Physical Damage; +6% Elemental Damage
Rank 3 - +7% Physical Damage; +7% Elemental Damage
Titan Strike - A triple dash attack that leaves a trail of hazardous lightning in its wake. L1 + square
Betrayal of Uranus - Summon two Cronos orbs and send them flying the enemy, creating an elemental hazard. L1 + triangle
The two orbs from the Betrayal of Uranus move could be a reference to the severed testicles.

Ouranos' name is also spelled differently. His name in ancient Greek, Οὐρανός, would translate, in each letter, to Ouranos.

This sword wouldn't have been made if the Blade of Olympus was a weapon to be earned through weapon fragments.
Ad blocker interference detected!
Wikia is a free-to-use site that makes money from advertising. We have a modified experience for viewers using ad blockers

Wikia is not accessible if you've made further modifications. Remove the custom ad blocker rule(s) and the page will load as expected.