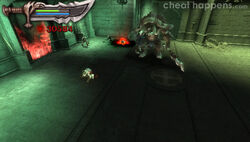 The Crypt was a place in the depths of Tartarus where corpses were kept. It was also "watched over" by the Jailer of Tartarus, whose skeletal remains sat on a throne-like seat above. As Kratos made his way through the Crypt, he found the Cryptkeeper's Key, which allowed him access to the Temple of Zeus.
Objects/Treasures
Edit
Related Pages
Edit
Ad blocker interference detected!
Wikia is a free-to-use site that makes money from advertising. We have a modified experience for viewers using ad blockers

Wikia is not accessible if you've made further modifications. Remove the custom ad blocker rule(s) and the page will load as expected.