Elephantaur
Talk

1
828pages on
this wiki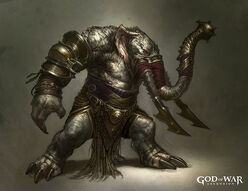 Elephantaur
is a new creature and enemy that appears in
God of War: Ascension
.
God of War: Ascension
Edit
Shaped like a fearsome and mighty elephant, its presence will be similar to that made by the Minotaurs in previous installments of the God of War series. An Elephantaur is not an actual beast from Greek mythology.
It wears Persian armor and can break its weapon when enraged, so it attempts to cause damage to Kratos with its own hands. The Spartan can finish it by opening its head, nailing the sword into its skull and crack it open, revealing its brain.
The creature appears to have been inspired by the Hindu God Ganesh.
The Elephantaur was planned to appear in God of War III and was named the Berserker. Several crew members were disappointed that it didn't make it into the game.
Other ideas for this enemy were a redesigned version of the Minotaur, a Minotaur with dragon-like appearance, or even a Rhinotaur.
Since this creature shows some Persian elements in it, this may possibly be a revised version of the War Elephant that was cut in God of War: Chains of Olympus.
The name "Elephantaur" means it should be a cross between an elephant and a bull (tauros), rather than a man.
In-game, they are referred to as Juggernauts.
Related Pages
Edit