Fear Kratos
Talk

1
828pages on
this wiki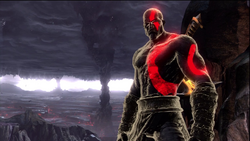 The Fear Kratos skin, as seen at the end of the game when Kratos entered his guilt-ridden mind while being strangled by the ghost of Zeus.
While wearing this costume, Kratos' appearance is black and his tattoo is now glowing.
After beating the game on any difficulty, Fear Kratos becomes unlocked as a costume. It quadruples damage done to enemies - and to Kratos himself.
In the Challenge of Exile, there is a challenge called "Fear Itself". The objective of the challenge is that you must fight and kill Fear Kratos.
In the "Fear Itself" challenge, Fear Kratos appears to be wielding the Blades of Athena as his weapon.
Fear Kratos is the only costume to be acquired by finishing God of War III. All other costumes are either acquired through pre-order, or by purchasing them in the PlayStation Store.
In God of War Ghost of Sparta, one of the challenges of Athena is named Fear Kratos, where Kratos has to make ten Atlantis citizens cower before him.
In the new game Mortal Kombat, Fear Kratos is an unlockable costume for Kratos by completing the ladder as Kratos although it looks slightly different as it still retains the Golden Fleece.
The Dark Odyssey costume in God of War II is similar to the Fear Kratos costume, however, the Dark Odyssey costume has a gold tattoo that doesn't glow.
In PlayStation All-Stars Battle Royale, for both his default costume and the Morpheus Armor, Fear Kratos appears as an alternate color. If it is Fear Kratos wearing the Morpheus armour then the metal and cape turn white.
Fear Kratos appears in the God of War III de-make, Bit of War, as a manifestation of the darkness residing within Kratos' soul.
Other Additional Costumes
Edit
The other bonus costumes for God of War III are: