Ad blocker interference detected!
Wikia is a free-to-use site that makes money from advertising. We have a modified experience for viewers using ad blockers

Wikia is not accessible if you've made further modifications. Remove the custom ad blocker rule(s) and the page will load as expected.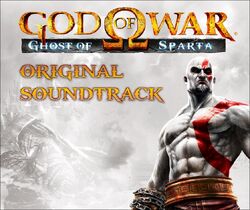 The soundtrack for God of War: Ghost of Sparta features all new music composed by Gerard Marino and Mike Reagan. It was exclusively released as downloadable content, made available through pre-ordering Ghost of Sparta, or by purchasing the game via the PlayStation Network Store. The soundtrack also features three bonus tracks from God of War: Chains of Olympus.
Track listing
Edit
"Atlantis" (Reagan) 3:09
"Deimos" (Marino) 2:05
"The Caldera" (Reagan) 3:17
"Battle with the Scylla" (Reagan) 1:34
"City of Ashes" (Marino) 2:44
"Aroania Mountains" (Reagan) 3:09
"Daughter of Death" (Marino) 1:44
"Ghost of Sparta" (Reagan) 3:00
"The Brother" (Marino) 1:54
"Canyons of Sorrow" (Marino) 3:10
"The Fallen Brother" (Marino) 2:49
"Death's Domain" (Reagan) 3:21
"Deimos' Revenge" (Marino) 1:36
"Brothers in Arms" (Marino) 1:21
"Calliope" - Bonus Track (Marino) 2:53
"The Wrath of Charon" - Bonus Track (Marino) 1:57
"Persian Combat" - Bonus Track (Marino) 1:37