Ad blocker interference detected!
Wikia is a free-to-use site that makes money from advertising. We have a modified experience for viewers using ad blockers

Wikia is not accessible if you've made further modifications. Remove the custom ad blocker rule(s) and the page will load as expected.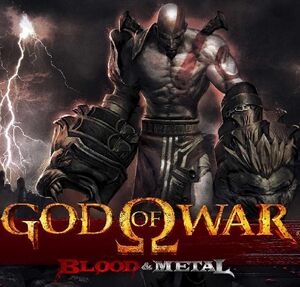 God of War: Blood & Metal is a heavy metal/rock inspired soundtrack EP, released as a digital download for God of War III.
It features six major artists from RoadRunner Records, a rock/metal based music label owned by Warner Bros. It was released for purchase on March 2, 2010, and was included in the God of War III: Ultimate Edition released in North America on March 16, 2010. It was also included in the God of War III: Ultimate Editions released in Australia and Europe. Track 7, by the Turtlenecks, was released as a bonus download, with purchase of the Ultimate Edition only.
Track Listing
Edit
Killswitch Engage - My Obsession
Trivium - Shattering the Skies Above
Dream Theater - Raw Dog (Instrumental)
Taking Dawn - This is Madness
Opeth - The Throat of Winter
Mutiny Within - The End
The Turtlenecks - Even Gods Cry
"Raw Dog" is the last song officially recorded and released by Dream Theater with former drummer Mike Portnoy before quitting the band.
In the other hand, "Shattering the Skies Above" is the first song officially recorded and released by Trivium with then-drummer Nick Augusto.
The Lyrics of Taking Dawn's "This is Madness" make references to the movie "300". (which is a loose reference to Kratos as he was a Captain in the Spartan army)
Kratos pose resembles his pose in the collection God of War Saga