Ad blocker interference detected!
Wikia is a free-to-use site that makes money from advertising. We have a modified experience for viewers using ad blockers

Wikia is not accessible if you've made further modifications. Remove the custom ad blocker rule(s) and the page will load as expected.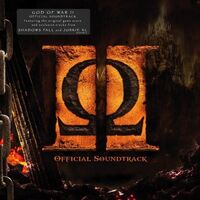 The soundtrack of the God of War II video game contains various tunes and music themes from throughout the game. Released on April 10, 2007 in the United States by System Recordings, it featured various artists, including Shadows Fall, George "Tragic" Doman, and Junkie XL.
Track ListingEdit
"Main Title" (Marino) 2:59
"The Glory of Sparta" (Reagan) 3:10
"The Way of the Gods" (Marino) 2:13
"Colossus of Rhodes" (Marino) 2:22
"The Bathhouse" (Reagan) 2:02
"Death of Kratos" (Marino) 4:12
"The End Begins" (Marino) 1:57
"Typhon Mountain" (Reagan) 3:14
"Waking the Sleeping Giant" (Velasco) 1:49
"Battle for the Skies" (Reagan) 2:12
"Exploring the Isle" (Marino) 2:19
"The Isle of Creation" (Velasco) 3:20
"The Summit Of Sacrifice" (Fish) 2:35
"An Audience With Cronos" (Fish) 2:07
"The Barbarian King Returns" (Velasco) 2:00
"Bog of Lost Souls" (Fish) 2:19
"Battle in the Bog" (Reagan) 2:00
"Crossing the Lowlands" (Marino) 2:07
"Atlas" (Fish) 3:37
"Palace of the Fates" (Fish) 2:46
"Phoenix Rising" (Velasco) 2:16
"Ashen Spire" (Marino) 1:06
"Athena" (Marino) 0:56
"The Battle for Olympus" (Marino) 3:11
"Colosses Remix" (Junkie XL) 4:24
"Blood of Destiny" (Shadows Fall) 2:43
"God-Like" (George "Tragic" Doman) 2:14
"Atlas Remembers" - Bonus Track (Marino) 4:11
"Kratos and Atropos" - Bonus Track (Fish) 1:33
"Pursuing Destiny" - Bonus Track (Velasco) 3:36
"Theme of Fates" - Bonus Track (Marino) 2:11