The
Godly Possessions
are hidden collectables in
God of War III
. Taking the place of the
Urns of Power
from
God of War II
, they are various items treasured by the gods (and Daedalus, the only mortal among them who has a Godly Possession). They are hidden throughout the game, often in areas related to the god they belong to. They unlock various special abilities for Kratos, but can only be activated by starting a Bonus Game (completing the game and starting a new one in the same difficulty), and prevent the player from earning any Trophies in that playthrough. As a result, they are mainly used as a little bonus, opening all kinds of interesting new possibilities and play styles.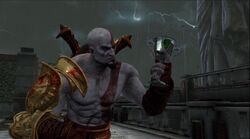 When you find all 10, you obtain the "Priceless" gold trophy.
Godly Possessions
Edit
Ad blocker interference detected!
Wikia is a free-to-use site that makes money from advertising. We have a modified experience for viewers using ad blockers

Wikia is not accessible if you've made further modifications. Remove the custom ad blocker rule(s) and the page will load as expected.