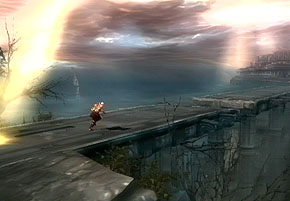 The Great Chasm was a giant canyon, full of broken passageways, on the Island of Creation between the Lowlands and the Palace of the Fates.
When he reached the chasm, Kratos fought a crazed Icarus and ripped off his wings, allowing the insane man to fall to the Underworld. After falling into the Underworld, Kratos came face to face with the Titan Atlas. After Kratos gained the Titan's trust and was granted the power of Atlas Quake, Atlas aided him by giving him passage across the chasm.
Objects/Treasures
Edit
Related Pages
Edit
Ad blocker interference detected!
Wikia is a free-to-use site that makes money from advertising. We have a modified experience for viewers using ad blockers

Wikia is not accessible if you've made further modifications. Remove the custom ad blocker rule(s) and the page will load as expected.