Hades' Helm
Talk

0
828pages on
this wiki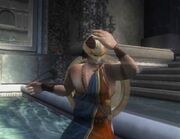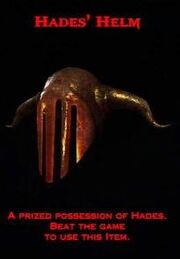 Hades' Helm, also known as the Helm of Darkness, or the Cap of Hades, is one of the ten Godly possessions found in God of War III. It is the very helmet worn by Hades, god of the Underworld himself. The helm was used by numerous figures, including the goddess of wisdom, Athena, the messenger god, Hermes, and the hero Perseus. In God of War II, Perseus' helm is ultimately knocked off of his head during his battle with Kratos, who the destroyed it by stepping on it. Also known as the Helmet of Invisibility, the helmet was created by the cyclopes and given to Hades as a gift after his brother Zeus freed them from Tartarus.
In God of War III, it can only be activated in Bonus Play, after beating any difficulty once. Like all Possessions, it will disable new trophies from being unlocked once activated.
Description
Edit
Equipping the Helm during Bonus Play maxes out Kratos' heath, magic, and item strength.
It can be found on the bottom of the River Styx, after defeating Hades. Located nearby Hades' giant form, its trademark orange glow remains, making it fairly easy to spot.
In God of War II, Perseus is seen putting on a helmet, which causes him to be invisible. In the Greek myth, this helmet was given to him by Hades in order to kill Medusa, when he was challenged by the king of his island to do so. Another hypotesis is that, in the God of War myth, it was given to him by the gods to kill Kratos or simply to conclude his journey to the Sisters of Fate.