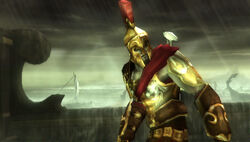 Kratos
'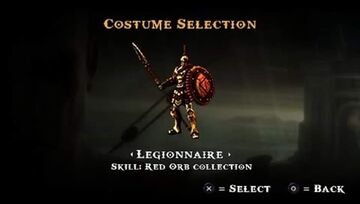 Legionnaire
Costume
was one of the costumes in God of War: Ghost of Sparta. It was loosely based on the armor worn by a
Spartan
Soldier.
The idea for that costume started after the developers learned about the God of War fans known as the Spartan Army. Thinking it would be cool to do a costume that would go with the Arms of Sparta and form a cohesive set of gear, they designed the Legionnaire Costume.
The helmet design was loosely based on that of a Spartan Soldier and the chest plate had elements like the Cerberus silhouettes found on Kratos' Armor from the God of War flashbacks. The developers also wanted to carry the crimson elements of Kratos' tattoo and cloth skirt into that costume in order to keep his palette familiar.
That costume granted Kratos the ability to collect double Orbs of all types, and using magic cost half the amount of Blue Orbs. On top of that, the Legionnaire resisted enemy damage four times as much as normal and dealt double damage with the Arms of Sparta.
Obtaining It
Edit
The Legionnaire Costume was unlocked through a code that was obtained by pre-ordering the game.
God of War: Origins Collection
Edit
All the previous pre-order exclusive content (including that costume) was included with the game.
Ad blocker interference detected!
Wikia is a free-to-use site that makes money from advertising. We have a modified experience for viewers using ad blockers

Wikia is not accessible if you've made further modifications. Remove the custom ad blocker rule(s) and the page will load as expected.