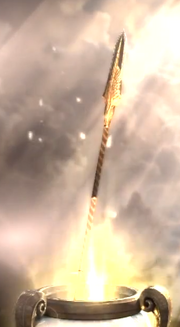 "
Emblazoned with the golden feather of Zeus's Eagle, this spear will awaken the most colossal warrior.
"

–In game description
The Lance of Zeus is a weapon only available to players aligned with Zeus. It is unlocked at level 25.
Experience
Edit
Rank 1 - +5% Physical, +8% Elemental
Rank 2 - +6% Physical, +9% Elemental
Rank 3 - +7% Physical, +10% Elemental
Zealot's Defence - A powerful lightning wave that sends enemies flying and shields teammates. (After ranking up) Increased radius. L1 + square
Claws of Acrimony - Charge the spear to grant a magical aura to and your teammates. Press L1 + triangle to activate a powerful lightning attack. (After ranking up) Increased duration. L1 + triangle
Godly Lance of Zeus
Edit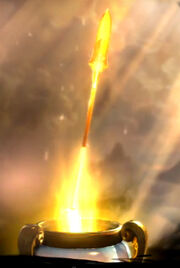 Golden spear.
Experience
Edit
Rank 1 - n/a
Rank 2 - 35,000 XP
Rank 3 - 85,000 XP
Rank 1 - +5% Physical, +10% Elemental
Rank 2 - +6% Physical, +11% Elemental
Rank 3 - +7% Physical, +12% Elemental