Ad blocker interference detected!
Wikia is a free-to-use site that makes money from advertising. We have a modified experience for viewers using ad blockers

Wikia is not accessible if you've made further modifications. Remove the custom ad blocker rule(s) and the page will load as expected.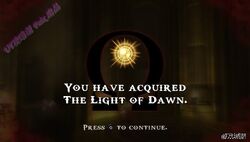 The Light of Dawn is a special power that Kratos gets in God of War: Chains of Olympus, after obtaining Primordial Fire within the Caves of Olympus. It allows Kratos to summon orbs of bright light and hurl them at his enemies. A player can then level it up to increase the damage of the orbs, and to gain new abilities.
Orb Costs
Edit
Level 1 - N/A
Level 2 - 2,250 Orbs
Level 3 - 6,250 Orbs
Solar Flare - Hurl orbs of light at your enemies. R + Square
Solar Flare (Air) - While airborne, hurl orbs of light at your enemies. R + Square
Solar Flare (Rapid Fire) - Hurl orbs of light at your enemies at rapid speed. R + Square

Radiant Sun (Charged) - While holding R, hold square and release to charge the light for more damage. R + Hold Square