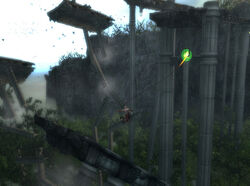 The Lowlands are a series of cliffs and canyons within the interior of the Island of Creation. Kratos comes to them by going up a path beyond the Courtyard of Atropos. While traversing the Lowlands, Kratos also finds the corpse of the Dark Griffin, and the Spear of Destiny, which Kratos can claim. At the end of the Lowlands is the Great Chasm.
Objects/Treasures
Edit
Related Pages
Edit
Ad blocker interference detected!
Wikia is a free-to-use site that makes money from advertising. We have a modified experience for viewers using ad blockers

Wikia is not accessible if you've made further modifications. Remove the custom ad blocker rule(s) and the page will load as expected.