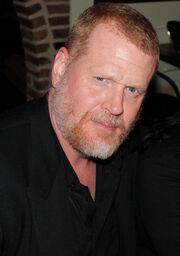 Matthew Woodring Stover
(born 1962) is an
American
fantasy
and
science fiction
novelist
, famous for writing four
Star Wars
novels.
Stover lists some of his prime influences as Roger Zelazny, Stephen R. Donaldson, and Fritz Leiber. His dedication in Blade of Tyshalle cites other late "friends" including Leo Tolstoy and Friedrich Nietzsche.
Matthew Stover has stated that he will be writing several non-fantasy genre works. Going outside of his known genre, he said he would be using a pseudonym. He stated that the novels would be a Chicago crime novel as well as a few mysteries.
In May of 2010, he, alongside Robert E. Vardeman, wrote a novel adaptation of the acclaimed video game God of War.
Ad blocker interference detected!
Wikia is a free-to-use site that makes money from advertising. We have a modified experience for viewers using ad blockers

Wikia is not accessible if you've made further modifications. Remove the custom ad blocker rule(s) and the page will load as expected.