The Morpheus Armor is a bonus costume from God of War III.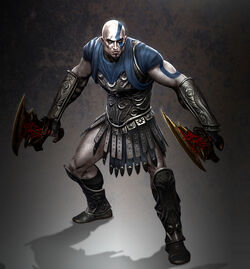 At first, it could only be obtained when someone bought enough 7-11 Slurpee cups to get 10 points to purchase the costume from the Slurpee website. It was later released as add-on content for God of War III, on the PSN, on November 10, 2010 in Europe, and November 3, 2010 in North-America.
Description
Edit
While Kratos is wearing Morpheus Armor his red tattoo becomes blue, a throwback to his original designs. His gauntlets glow blue, and his eyes are black instead of hazel.
Abilities
Edit
Other Additional Costumes
Edit
The other bonus costumes for God of War III are:
In PlayStation All-Stars Battle Royale, the Morpheus Armor appears as Kratos' unlockable costume. When Fear Kratos, an alternate colour for Kratos, wears this armour the metal and cape turn white.
One of Kratos' earlier designs was to have his tattoo blue, but they decided to scrap the idea due to one of the art designers thinking that the red tattoo looked better. The Morpheus Armor may be the costume based on this specific design but with some improvements in the form of a silver breastplate and blue cloak.
An altered version of the Armor of Morpheus appears in Ascension's Multiplayer. Participants of Rise of the Warrior could obtain an instant in-game unlock for this armor. For those who did not participate, it can later be unlocked by completing these tasks;

Helmet - Acclaimed II (5 Trial of the Gods victory)
Chest - Gold III (25 gold waves)
Legs - Gold II (10 gold waves)
Ad blocker interference detected!
Wikia is a free-to-use site that makes money from advertising. We have a modified experience for viewers using ad blockers

Wikia is not accessible if you've made further modifications. Remove the custom ad blocker rule(s) and the page will load as expected.