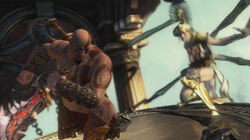 Featured as a bonus costume in God of War: Ascension, Olive Skin Kratos is unlocked upon completing the game in any difficulty.
The costume is similar to Kratos' default appearance, albeit with an olive, regular type skin tone, unlike his "ghostly" white skin. It is very similar to the General Kratos costume in God of War II.
Ad blocker interference detected!
Wikia is a free-to-use site that makes money from advertising. We have a modified experience for viewers using ad blockers

Wikia is not accessible if you've made further modifications. Remove the custom ad blocker rule(s) and the page will load as expected.