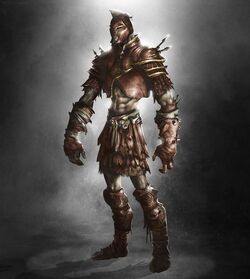 The
Phantom of Chaos
skin is based on one of the early concept designs for
Kratos
from the original
God of War
.
At first, the skin was received by pre-ordering God of War III from Gamestop, or by purchasing the Ultimate Trilogy Edition of God of War III. Later on, it was released for both the European and the North-American PSN on November 3rd, 2010.
In one issue of GameInformer, an article featured how characters change through development. It was stated that this was what Kratos was originally going to look like. In a Gamestop commercial it is joked that the armor is made of a Chimera, as the boots are refer to the snake, the helmet is "fashioned," from a goat skull and the loin cloth is lion hide.
Description
Edit
In-game, the Phantom of Chaos costume displays some obvious differences from Kratos' standard appearence. Amongst other deviations, the skin has noticeably less muscle mass overall, has more of a darker gray skin tone and lacks Kratos' trademark tattoo. However the abdominal scar Kratos received from Zeus impaling him with the Blade of Olympus remains.
Abilities
Edit
Other Additional Costumes
Edit
The other bonus costumes for God of War III are of the following:
Ad blocker interference detected!
Wikia is a free-to-use site that makes money from advertising. We have a modified experience for viewers using ad blockers

Wikia is not accessible if you've made further modifications. Remove the custom ad blocker rule(s) and the page will load as expected.