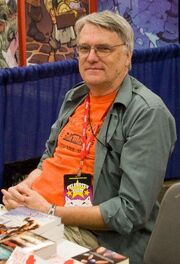 Robert Edward Vardeman (sometimes called Vardebob) (born 1947) is an American science fiction fan and writer. He got his start in writing by writing for science fiction fanzines, and was nominated for the 1972 Hugo Award for Best Fan Writer. Vardeman is one of the founders of Bubonicon, a science fiction convention in in Albuquerque, New Mexico, and is the author of over fifty fantasy and sci-fi novels.
In May 2010, he and Matthew Stover wrote a novelization of the acclaimed video game God of War. Vardeman also wrote the novelization of God of War's sequel, God of War II, without the assistance of Stover.
Ad blocker interference detected!
Wikia is a free-to-use site that makes money from advertising. We have a modified experience for viewers using ad blockers

Wikia is not accessible if you've made further modifications. Remove the custom ad blocker rule(s) and the page will load as expected.