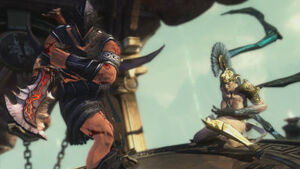 The Skorpian Armor is an alternative costume featured in the single-player campaign in God of War: Ascension.
The armor features a helmet that covers almost all the face, with a little opening to allow vision, biceps, lower arm and leg plates. The whole armor color is black.
Each armor piece gives +1 Health and +4% Cooldown. It's also available as a multiplayer armor by completing the following tasks;
Helmet - Daedalus Revenge 1 (Spin the Labyrinth 3 times)
Chest - Treasure of the Gods (white chests)
Legs - Treasure of the Gods (white chest)
Cooldown Reduction at Rank 1, plus an additional +1 Health and +1% Cooldown Reduction at each additional rank, up to Rank 3.
Despite the name, there is no explicit relation with Skorpius in the armor.
This armor can be see in the beginning of the Ascension Multiplayer trailer.
Ad blocker interference detected!
Wikia is a free-to-use site that makes money from advertising. We have a modified experience for viewers using ad blockers

Wikia is not accessible if you've made further modifications. Remove the custom ad blocker rule(s) and the page will load as expected.