Skorpius
Talk

7
828pages on
this wiki
Skorpius




In-Game Information
Alias/es:
{{{alias}}}
Gender:
Female
Birthplace:
{{{birthplace}}}
Species/Race:
Scorpion
Misc. Information
Family Member/s:
*Skorpius Spawn (offspring)
Current status:
Deceased
Location:
{{{location}}}
Behind the Scenes
Voiced by:
{{{voice actor}}}
Appears in:
{{{appears in}}}
The Queen of the Scorpions, Skorpius, dwells deep within the caverns below Mount Olympus.
In God of War III
Edit
Skorpius has Onyx crystals infused into parts of her exoskeleton, which can only be broken with the Nemean Cestus or the Blade of Olympus. She appears on one of the cubes of the Labyrinth and fights Kratos on it. She attacks him by grabbing and pushing him back with her pincers and by slamming and creating ice spikes on the ground with her sting. As Kratos fights Skorpius, he must also fend off her brood, the Skorpius Spawns, that swarm in to defend their Queen.
After smashing the Onyx crystals around three Skorpius' legs she will be crippled and will fall on the ground. Kratos must use this moment to attack her head and then rip one of her teeth in a quick time event. He must repeat this process with the three remaining legs with Onyx to cripple her for a second time and then punch her in her back, making both fall from the cube they were fighting on.
After a brief fight in the air, Skorpius falls on another cube and Kratos falls on her backs. He kills her by grabbing her own stinger and pulling it straight through her head. After she was crystallized by her own stinger, Kratos destroyed her frozen remains to retrieve Boreas' Icestorm.
Strategies
Edit
An important point to note in the Skorpius fight is that Kratos should avoid getting surrounded by the scorpion broods as much as possible. If Kratos uses mainly the Triumphant Labor combo (the square, square, square combo of the Nemean Cestus) to attack the Skorpius, it is also important to note that he does a dash in the final attack in the combo. He can use this final dash to charge out of the swarm of little scorpions. Alternatively, if Kratos is able to align the little scorpions in the same direction, he can use the dash to attack multiple little scorpions at the same time.
Another good strategy is to keep grabbing Skorpius brood whenever Kratos' health bar is low or when he's about to be attacked by Skorpius, because he won't receive any damage while killing a small scorpion and will receive green orbs for each one's death.
Skorpius Spawn
Edit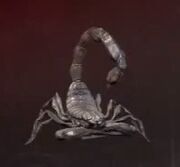 Skorpius Spawns
are enemies in
God of War III
. They are the offspring of Skorpius. Kratos encounters these foes deep within the
Labyrinth
below
Mount Olympus
, where they will attack him in large numbers, and with unrelenting ferocity. They resemble small, pale versions of Skorpius, but lack the
Onyx
armor on their limbs and back.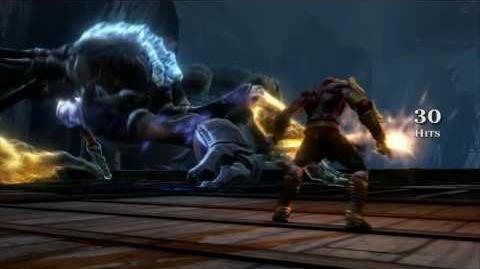 Related Pages
Edit