Ad blocker interference detected!
Wikia is a free-to-use site that makes money from advertising. We have a modified experience for viewers using ad blockers

Wikia is not accessible if you've made further modifications. Remove the custom ad blocker rule(s) and the page will load as expected.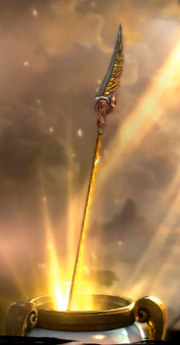 "
Tipped with the Serpents of Asclepius, this spear heralds death to those who chance facing it.
"

–In game description
The Spear of Hermes is one of the weapons that warriors in Multiplayer have to obtain by three fragments.
Description
Edit
"
A spear that greatly enhances team movement and mobility.
"

–In-game Description
The Spear of Hermes is a long golden spear, which ends in a long curved blade. It's a silver blade, with golden wings decorated at the side of the blade. The lower feathers work as a saw-like blade. The staff is connected with a curls of bronze metal.  
Experience
Edit
Rank 1 - n/a
Rank 2 - 15,000 XP
Rank 3 - 45,000 XP
Rank 1 - +1% Physical Damage; +3% Elemental Damage; +8% Cooltime Reduction
Rank 2 - +2% Physical Damage; +4% Elemental Damage; +9% Cooltime Reduction
Rank 3 - +3% Physical Damage; +5% Elemental Damage; +10% Cooltime Reduction
Olympic Messenger - A magical spear toss that impales enemies and explodes after short duration. L1 + Square
Thief's Agility - Activate a speed attack and aura of haste around teammates.  Press L1 + Triangle for a powerful dash attack.  (After ranking up) Increased duration.  Press  L1 + Triangle