Ad blocker interference detected!
Wikia is a free-to-use site that makes money from advertising. We have a modified experience for viewers using ad blockers

Wikia is not accessible if you've made further modifications. Remove the custom ad blocker rule(s) and the page will load as expected.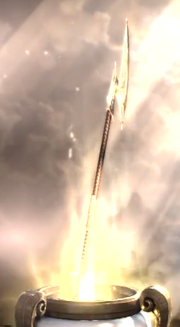 "
Lightning encased in Olympic bronze, this spear stuns enemies with the Glory of Zeus.
"

–In game description.
The Spear of Zeus is a weapon only available to players with alignment to Zeus. It is unlocked at level 9.
Experience
Edit
Rank 1 - +1% Physical, +10% Elemental
Rank 2 - +2% Physical, +11% Elemental
Rank 3 - +3% Physical, +12% Elemental
Arc of Discernment -  A ranged elemental bolt attack that leaves hazards to stun opponents (After ranking up) Increased bolt stun duration.  L1 + square
Thunderous Torrent -  Leap in the air.  Throw down a powerful spear that stuns enemies, and then rip it out to launch them (After ranking up) Second attack will silence enemies.  L1 + triangle
Godly Spear of Zeus
Edit
Silver spear.
Experience
Edit
Rank 1 - n/a
Rank 2 - 35,000 XP
Rank 3 - 85,000 XP
Rank 1 - +2 Health; +1% Physical Damage; +11% Elemental Damage
Rank 2 - +3 Health; +2% Physical Damage; +12% Elemental Damage
Rank 3 - +4 Health; +3% Physical Damage; +13% Elemental Damage