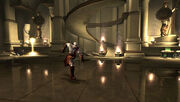 One of the recurring elements in the
God of War Series
are spiral staircases. They appear at least once in every game, excluding
Betrayal
.
Examples of them are: the one which Kratos uses to go from Athens' Sewers to the Road to Athens (and then continue his journey to the Desert); and the one that joins the Catacombs of the Fallen, deep in Euryale's Temple, with the Destiny's Atrium.
Also, spiral staircases are found in the Temple of Helios, Pandora's Temple (before the Hall of Trials), and Crete.
Ad blocker interference detected!
Wikia is a free-to-use site that makes money from advertising. We have a modified experience for viewers using ad blockers

Wikia is not accessible if you've made further modifications. Remove the custom ad blocker rule(s) and the page will load as expected.