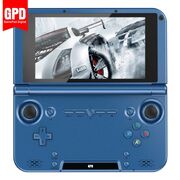 Today we are reviewing the GPD XD, the latest offering from Chinese tech company GPD for the Android gaming market. GPD has been a big player in the android gaming tablet market for some time, and the GPD XD is definitely a showcase of the company's experience. The GPD XD is a change-up from the flat design that most Android gaming tablets follow, instead GPD chose to replicate the Nintendo 3DS's clam shell design. Our GPD XD Review will touch on a variety of things about this device, from its hardware to the firmware.
The GPD XD still features all the traditional controls as you see in most handheld devices, with the dual analog sticks, D-Pad, XYBA Face buttons and the now common bumper buttons. The device also comes with supplemental buttons to help you navigate around the Android operating system without the need to rely on the touch screen, these come especially in handy considering this device only features a 5-inch screen. So the less room taking up by on screen menus, the better.
Ad blocker interference detected!
Wikia is a free-to-use site that makes money from advertising. We have a modified experience for viewers using ad blockers

Wikia is not accessible if you've made further modifications. Remove the custom ad blocker rule(s) and the page will load as expected.