Ad blocker interference detected!
Wikia is a free-to-use site that makes money from advertising. We have a modified experience for viewers using ad blockers

Wikia is not accessible if you've made further modifications. Remove the custom ad blocker rule(s) and the page will load as expected.
"
Graced by the white laurels of Olympus, this war armor announces the victories of the king of the gods.
"

–Ingame description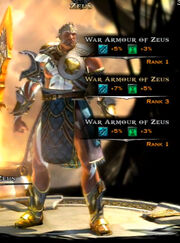 The War Armor of Zeus is a set of armor only available to warriors pledged to Zeus in Multiplayer. It is unlocked at rank 29.
Rank 1 - +5% Elemental Damage; +3% Cooldown
Rank 2 - +6% Elemental Damage; +4% Cooldown
Rank 3 - +7% Elemental Damage; +5% Cooldown
Experience
Edit
Rank 1 - n/a
Rank 2 - 20,000 XP
Rank 3 - 50,000 XP
Godly War Armor of Zeus
Edit
All gold
Experience
Edit
Rank 1 - n/a
Rank 2 - 35,000 XP
Rank 3 - 85,000 XP
Rank 1 - +7% Elemental Damage; +6% Cooldown

Rank 2 - 

+8% Elemental Damage; +7% Cooldown

Rank 3 - 

+9% Elemental Damage; +8% Cooldown